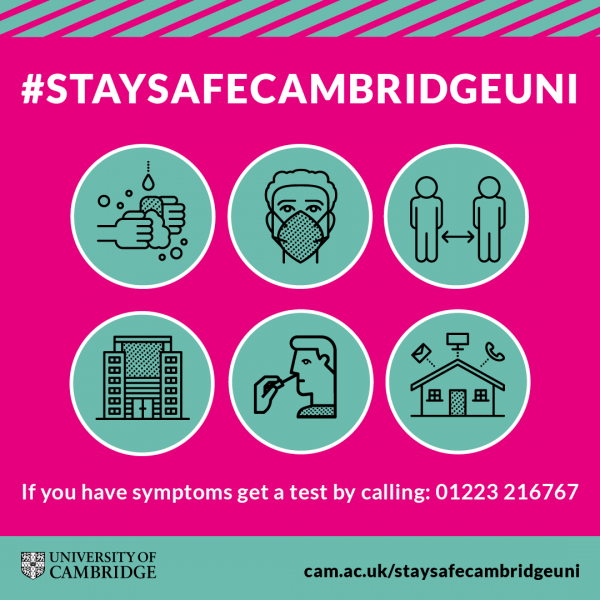 Please additionally see the COVID-19 documents page.
The master Roger Mosey wrote to all students at Selwyn on September 22nd about the term ahead:
"Dear all
We've already welcomed a number of students back to the college – joining the small community that's been here throughout the health emergency – and now we're prepared for the full contingent of undergraduate and postgraduate students to arrive in the next couple of weeks. We're delighted that the college is buzzing with activity again; but I have a very important message to share.
If we are to continue through this academic year with the maximum activity and the minimum disruption, it will require all of us to live our lives as safely as possible. We must take the greatest possible care of ourselves as individuals, and also think continuously about our responsibilities to others. That applies to me as master, to the fellows and staff and to every single student. Only by doing so will we minimise the risks.  Looking after each other, a key part of Selwyn since its foundation, is now more important than ever.
So please read thoroughly and carefully all the latest guidance. This gives an overview across Cambridge:
https://www.cam.ac.uk/coronavirus/stay-safe-cambridge-uni
And this section, as an example, explains one of the main ways we're going to organise ourselves within colleges – by having student 'households' who are able to socialise safely with each other:
https://www.cam.ac.uk/coronavirus/stay-safe-cambridge-uni/living-in-cambridge#households
As in other colleges, student households will be the foundation stone for living together at Selwyn. A household is defined by the sharing of kitchen and, where appropriate, bathroom/toilet facilities. In general this means that your household will be formed by the other students on the same landing as you in a staircase or those with whom you share a hostel kitchen. In a number of cases - staircases C to F in Old Court, ground floor of H, parts of J and K, ground floor and first floor of N, ground floor and first floor of P,  ground floor and first floor of Q, ground floor and first floor of R - students will be part of a household with others on the floor above/below. In Selwyn the smallest households consist of four students; the largest of 11. The vast majority include between six and eight students. Specific guidance on which students will make up your household will follow very shortly.
Generally the university-wide advice is supplemented by a lot of detail that we have developed here within the college. We've been working with student and staff representatives – and taking the latest external advice – through the past months; and there is a full reopening plan that has been approved by the college council. Let me highlight three key points:
We have adopted a colour-coded status system to allow us to react quickly to national and local developments.  Any move to a new status will be agreed by the college council, which includes JCR and MCR representatives. A copy is attached.
We have also developed a student protocol to summarise the key things you can do to help everyone stay safe at Selwyn. It will be circulated later this week, along with more details about testing and isolation. Attached is the college social distancing and face coverings policy which is now in operation.
Along with most of Higher Education we have come to the view that we cannot responsibly allow overnight visitors in the college for the foreseeable future, because all the advice we receive is that this would significantly increase the risks to everyone and it wouldn't be possible to operate safely and fairly within a household system.  
While you will notice that a lot has changed here at Selwyn to keep everyone safe, a lot is also still the same. Provided national guidance continues to allow it, in-person small group teaching wherever possible will remain a cornerstone of our approach. We have put a marquee in Old Court and screens in the servery to make sure we can still offer sit-down meals; and college bar is open, with the marquee doubling up as extra social space in the evenings.  
More will follow later this week. It's important to say that the guidance nationally and locally will change, sometimes at short notice. We will update you whenever it does. But the responsibility sits with each one of us to know what the college is asking of everyone, either because it is legally required or because it is best practice; and because of the seriousness of Covid, as a community we will not be able to tolerate any wilful breaking of the rules.
Please don't hesitate to get in touch with your tutor or with the senior tutor, bursar, vice-master or me direct if you have any immediate questions. But in the meantime, despite these challenging times, a warm welcome whether you're new here or returning; and I'll look forward to seeing everyone again very soon.
Roger Mosey"