Body
As with many Cambridge Colleges, the boat club at Selwyn plays an extremely important role in the sports life of the College and has done since the College's foundation. The history of the Selwyn College boat club that was written by A. P. McEldowney in 1972 has recently been digitised and is available to view below.
For further information about the boat club, please visit their website.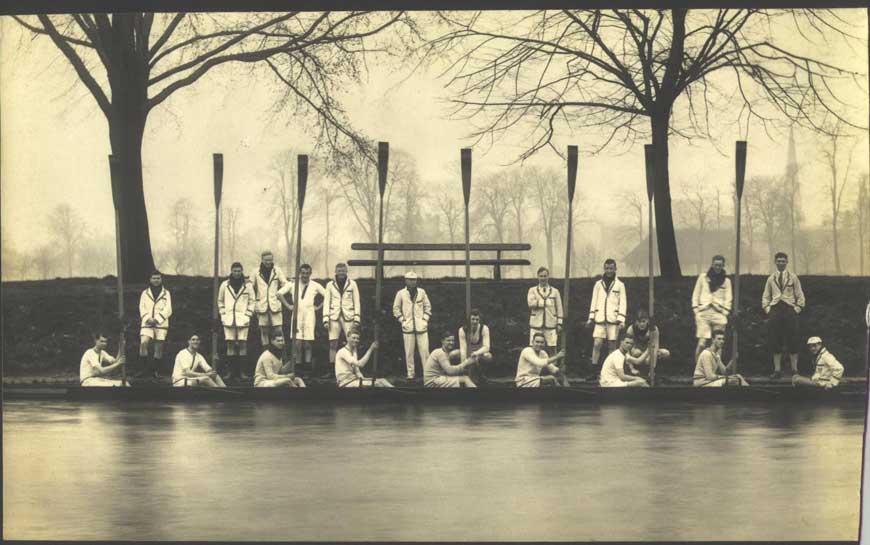 History
A. P. McEldowney's history of Selwyn College Boat Club
"If you suffered from insomnia and you can't fall asleep, just read a couple of pages from Mac's book." This is what a member of the Henley Fund (which Mac founded in 1926) said to me at the recent launch of Eivind Dullforce, our new Men's 1st VIII.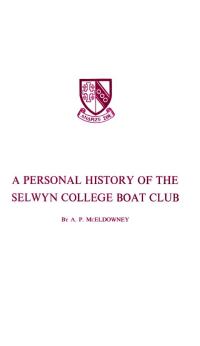 When I read the book for the first time, I felt that there are some things that "never change". Selwyn, even though the only College named after a Rowing Blue, has always been an underdog against the larger and financially stronger Colleges, it has always relied heavily on training up novices to be outstanding oarsmen, and how remarkably well it did! I like to quote Mac to our novices, because he was a REAL enthusiast, and even though I never met him in person, I believe he must have been an inspiration to have around. Here are just two quotes (from the 1959-1960 Committee Minutes):
'Those who are destined for academic honours will receive them whether or not they row.  And for the rest, they might as well get a Third by rowing six days a week as by any other means.'
'With the end of National Service men come to the College straight from school and are set on working ridiculous hours.  The College rowing will suffer seriously unless something happens to alter the situation.'
But most importantly, Mac's book goes beyond listing the numerous achievements of our Club. He tells a story of eight men that through a term of hard work are not only transformed into a crew of interacting forces, but have formed a bond that will last a lifetime.
30 years after its publication, hard copies of the book have become increasingly rare among the current rowers. While one copy is safely kept in the archives, Selwyn library's copy has been moved to a "safe" section, where it can be accessed only upon special request. In the time of desktop publishing it seemed rather obvious that a digitization of the Personal History was called for. My hope is that many more active and former rowers will flick through the digital book and start to get a feeling of our Club's magnificent history.
May the Club continue to flourish, and let there be many more inspiring oarsmen and REAL enthusiasts like Dr. P McEldowney.
Matthias Beestermoeller (SCBC 2008-2011)
Please click the image to view the history of the Boat Club.