Body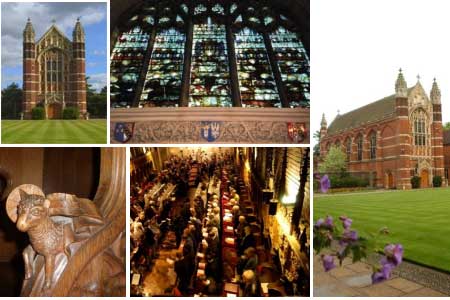 CLICK HERE for a link to the next chapel service, and to see which services will be livestreamed on the Selwyn Chapel YouTube Channel:
CLICK HERE for the Michaelmas Term Chapel Card
CLICK HERE for the music list for this term (subject to change) 
Song a Day for Lent 2021 archive 
Choral/Organ Scholarships and Postgraduate Lay Clerks
Selwyn College Chapel was consecrated on St Etheldreda's Day, 17 October 1895, by the then Archbishop of Canterbury. A brief history of the chapel can be found in the history section of this site.  Services have been said or sung daily in the chapel during Full Term since its consecration, and the chapel continues to be a spiritual and liturgical focus for the college, as well as an obvious architectural one.  Newnham College shares Selwyn's Chapel, since Newnham does not have a chapel of its own.  All members of Selwyn and Newnham are welcome at all chapel services and events.  All services are open to the public.
A link to the term's chapel card, giving details of services, can be found at the top of this page.
A weekly email is sent out to members of Selwyn and Newnham Colleges, with details of the forthcoming week's events. To join the list, please email the chapel administrator (chapel-administrator@sel.cam.ac.uk).