Body
Here at Selwyn, we offer a range of traditional and contemporary spaces for events of varying sizes. Our team will be pleased to advise you on which combinations will best suit your needs, and they will follow through in meticulous detail to ensure that everything runs smoothly on the day itself.
Quarry Whitehouse Auditorium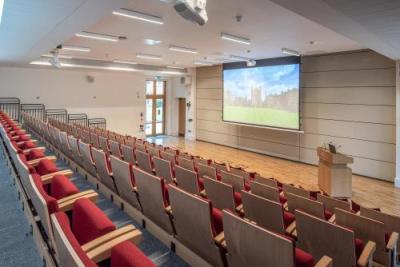 Our new Quarry Whitehouse Auditorium is available to organisers planning conferences, lectures, presentations, training sessions and a wide range of other events.
Together with the new Bartlam Library, the Quarry Whitehouse Auditorium is part of a £13m development, funded entirely by donations from College Alumni and friends.
The flexible space offers both tiered and flat floor seating layouts. Tiered seating is available for up to 139 delegates and other layouts with the seating retracted, can fit up to 200 people.
With a light airy atmosphere, the auditorium comes equipped with extensive audio-visual technology, offering options for hybrid events, and opportunities for video recording as well as two green/dressing rooms.
Theatre 120 | Classroom 47 | U-shape 30 | Boardroom 38 | Cabaret 72-96
Multi-functional meeting room
Projector and audio system
WiFi available
Toilet facilities
Theatre 105 | Classroom 26 | U-shape 22 | Boardroom 30 | Cabaret 54-72
Versatile room, used for meetings, drinks reception and buffets
Situated within Old Court with views of the lawn and College Chapel. Double doors opening on to court
The room can be partitioned into two for a breakout room or catering
Entrance foyer available for registration and refreshments
Large projection Wall, ceiling mounted projector, TV and built in audio system
Disabled access and toilet
WiFi available
Theatre 40 | Classroom 18 | U-shape 18 | Boardroom 24 | Cabaret 24-32
Refurbished in Autumn 2018
Touch screen audio visual system with whiteboard functionality
Toilet facilities
WiFi available
Theatre 40 | Classroom 16 | U-shape 15 | Boardroom 18 | Cabaret 27-36
Data projector
Audio system
Whiteboard
WiFi available
Meeting room or breakout room for up to 10 people
Ground floor room with disabled access
Close to Dining Hall
WiFi available
Often used as a Conference Office or for registration
Whiteboard