Body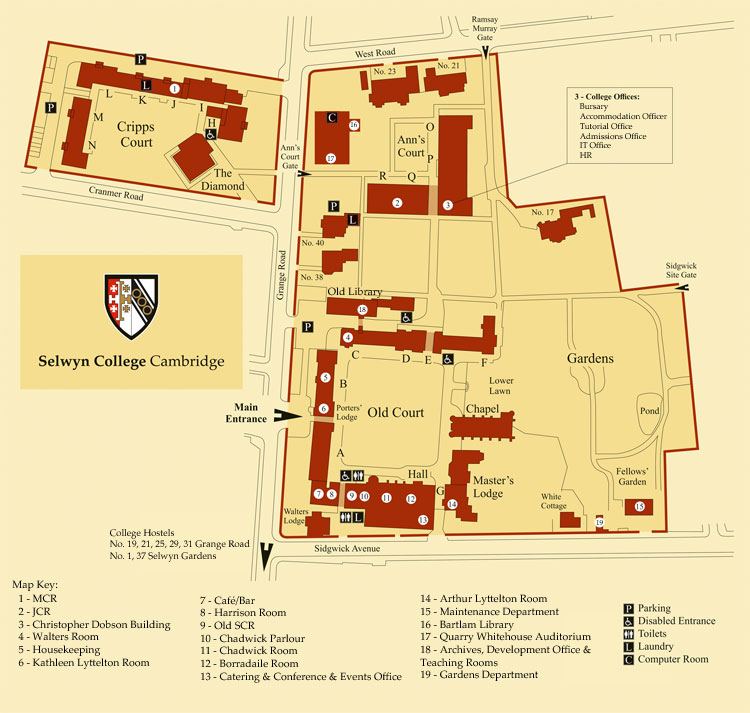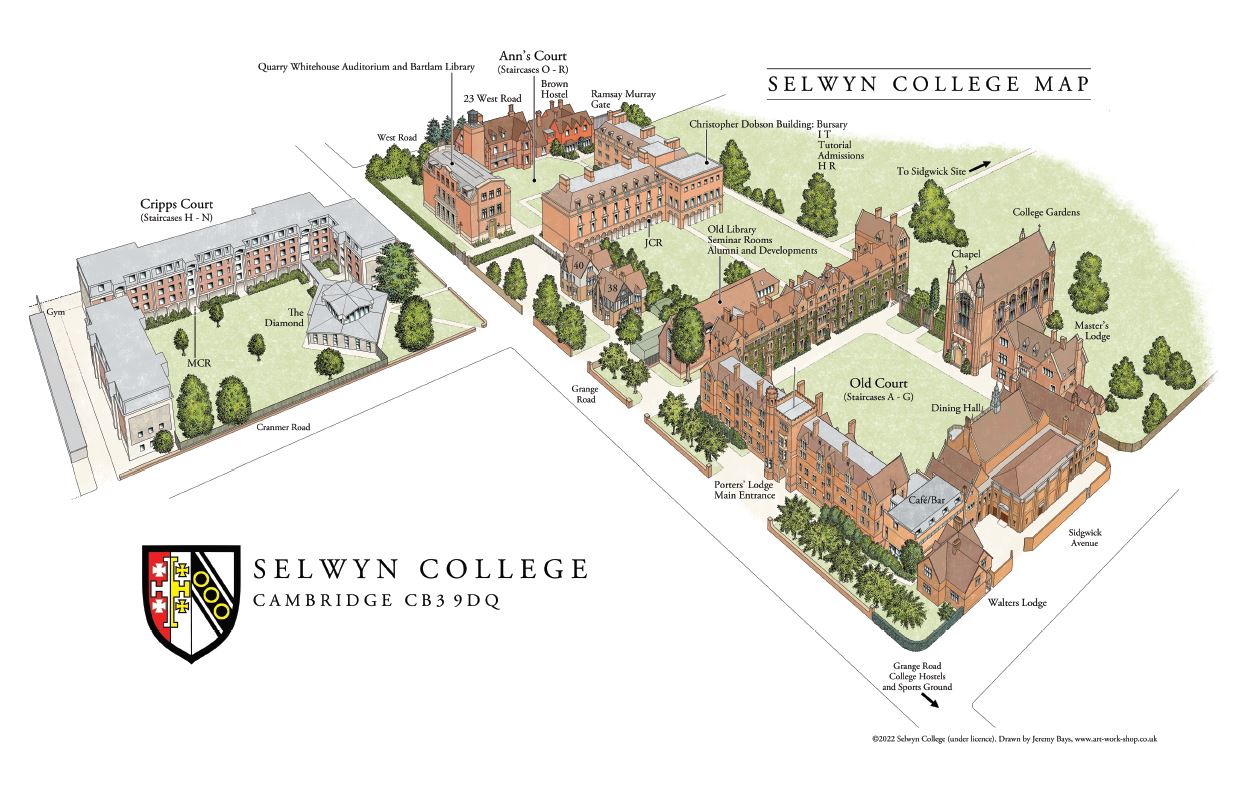 Visitors should be aware they are monitored by CCTV systems for the purposes of security and safety. All CCTV images are recorded and stored for a period of time.
Accessibility
Accessibility information about Selwyn College can be found here. 
Location
Selwyn College is located just to the west of, and about ten minutes walk away from, the city centre.Unlike some of the older colleges we are not hemmed in by other buildings, or beset by tourists in the summer.
Rather, we have a spacious site, including in our own grounds and gardens. The mature trees, tended beds and secluded areas make for a calm and relaxing environment for the enjoyment of all members of the College.
The Sidgwick Site, which houses most of the University Arts and Humanities Faculties, is at the foot of our gardens and the University Library is just across the road. The developing West Cambridge site, the Mathematical Institute and the Veterinary School are close by. None of the University buildings you are likely to need to visit are more than 15 minutes away on foot or 5 minutes by bicycle.
Map showing Selwyn College
You can use the zoom out facility (click anywhere on map to show buttons) to view approaches to Selwyn College, and also drag the map to show adjacent areas.
This page links to the University of Cambridge Official Map © Cambridge University Press and Cambridge University Computing Service
By car
The College postcode is CB3 9DQ.
Leave the M11 at junction 12 and head into Cambridge along the A603 (Barton Road), turn left into Grange Road. After about 500m Selwyn is on the right, just after the junction with Sidgwick Avenue.
If approaching from the East or West using the A14, usually the best option is to carry on until you can join the M11 southbound at junction 14, proceed south to junction 12, and then follow the instructions above.
Park & Ride and Local Bus

There is limited parking available at the College, and metered parking on some nearby side streets. At busy times, e.g. Open Days, the parking will quickly be taken up and we recommend that you use one of the Park & Ride car parks (http://www.cambridgeshire.gov.uk/info/20149/park_and_ride). The most convenient one is at Madingley Road, accessible from the M11 northbound at junction 13.  From there you can take the U (or University) bus, and get off at the University Library stop in West Road, which is right next to Selwyn.
By Foot/Bicycle
There are a number of useful maps and journey planners to help you ro plan a journey by bicycle:
Cycle parking
Cambridge University has over 13,000 cycle parking spaces and provides cycle parking at all sites.  To find out where to park your bicycle please visit the University map. 
By rail
Cambridge rail station is well served by trains from London King's Cross, London Liverpool Street, Stansted Airport, Norwich, Peterborough and Birmingham. East Coast mainline services can be accessed by changing at Peterborough. From London, the fastest journey times are from King's Cross, with a frequent non-stop service during the day. Details can be found here: https://www.greateranglia.co.uk/destination/cambridge
The rail station is a 30-35 minute walk from the College. The U bus goes direct from the railway station (stop 8) to the University Library stop next to Selwyn, and runs Mondays to Saturdays. Details can be found here: https://www.go-whippet.co.uk/wp-content/uploads/2021/06/0706Utt.pdf
There is an extensive taxi rank at the station.
By bus and coach
There is a frequent express bus service between London and Cambridge and a coach service several times a day between Heathrow, Gatwick and Stansted airports and Cambridge.  Details can be obtained from National Express (telephone 0870 580 8080).
Nationwide buses generally arrive at the bus stands along Parkside, the street which runs along the North edge of Parker's Piece.
A full list of Cambridge city services is available online: http://www.cambridgeshire.gov.uk/site/custom_scripts/bus_timetable_by_location.aspx?Loc=Cambridge
By air
Stansted Airport is very convenient for Cambridge, being connected by both direct bus and rail links (journey time about 45 mins).
Heathrow Airport is further away, but there is a regular direct bus link (journey time two and a half hours). To travel by train from Heathrow to Cambridge there are two options: (1) a long tube journey on the Piccadilly line from Heathrow to King's Cross station, and then by train to Cambridge; (2) the Heathrow Express from Heathrow to Paddington Station, followed by a short tube journey to King's Cross and then the train to Cambridge.
Local taxi service
In the Porters' Lodge there is a freephone for summoning local taxis.