Body
Helen Stephens – Head Porter
The Porters' Lodge is the main reception and enquiry point for the College.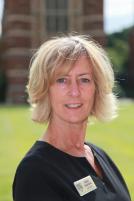 The Lodge is staffed by the Head Porter, her Deputy, and a team of seven Porters, three Night Porters and three Relief Porters, and is a friendly, helpful place which acts as the hub of the College with a pool of experienced staff from many different walks of life.
The roles of Porters are many and diverse. They are there to welcome our visitors and handle enquiries from students, visitors, conference guests, fellows and members of staff in person and by telephone. Porters are also responsible for franking, sorting and distributing mail, and for the sale of College memorabilia, postcards and stamps.
The main and most important task of the Porters is the security of the College and its associated properties, and for the safety of the students, members of staff and visitors alike.