Body
Saturday 8 July
2.00 - 5.00pm
This is a relaxed and informal occasion where we welcome children of all ages. There will be plenty to enjoy including games, crafts and more for younger audiences. 
We are delighted that Hannah Moffat (SE 2000) will lead two story-telling sessions for children. She will read an extract from her Sunday Times Children's Book of the Week, SMALL! Then she'll help your budding storytellers create their own swamp creatures and write stories about them.

For grown-ups, the college's new buildings will be open to explore, including the archives, Bartlam Library and Tower, which offers spectacular 360 degree views over Cambridge.

In the Quarry Whitehouse Auditorium, ther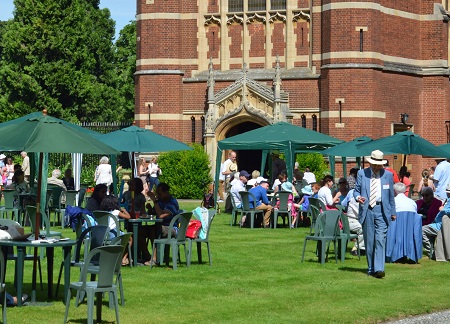 e will be a special Selwyn edition of Gardener's Question Time with our own Head Gardener, Alex Turner.

The Old Court bar will be open throughout, and a delicious complimentary cream tea will be served.

Music will be provided by Olly Wedgwood (SE 1993) and his jazz trio and the college choir will perform throughout the afternoon.