Our alumnus Hugh Laurie, who studied here from 1978 to 1981, was installed as an honorary fellow of Selwyn in a ceremony on December 13th in chapel. The honour recognises his extraordinary achievements as an actor, writer and musician.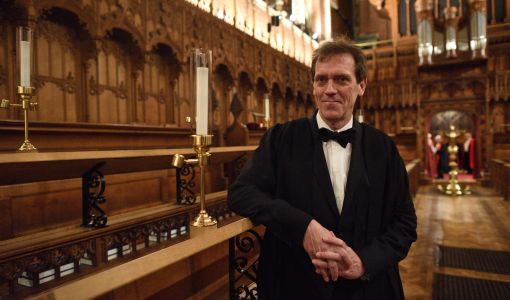 During his time at the college, Hugh rowed in the university boat race against Oxford; and he began his writing and comedy partnership with Stephen Fry, who was a contemporary at Queens' College. Since then he has become one of the most famous faces in film and television worldwide, with two major new roles revealed early in 2020: as the captain of a space ship in Avenue 5, and as Mr Dick in The Personal History of David Copperfield.

Hugh said after the installation: "There are very few things as solidly fixed in my life as Selwyn - emotionally, artistically, architecturally and academically. It"s remarkable to return, and I am truly honoured to be an honorary fellow."

He is seen with the vice-master Dr Janet O"Sullivan, who presented him for the installation; and afterwards being congratulated by fellows, including Hugh"s family member Haruko Laurie.