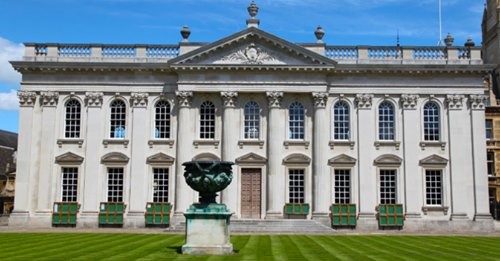 At Selwyn we are very much looking forward to greeting our new freshers this autumn. We are expecting this to be the most socially diverse cohort in the college's history, with our percentage state school students projected to reach a new high of 79%.
In the light of the changing positions of UK governments on A-Level results, this is the latest statement on admissions from Cambridge University.
**
Following the announcement from Ofqual on 17th August (and similar announcements by other examination boards and authorities) we are working as quickly as possible to provide certainty for students who were made an initial offer by the University.
While we require time to work through the process we would like to provide the following reassurances to applicants:
Applicants with a place already confirmed will be admitted
We look forward to welcoming all offer holders who have had their admission confirmed to date. These offers are final and will not change or be withdrawn unless specifically agreed between the college and the student.
Applicants who were made an offer that was not confirmed following release of initial results will be admitted if their centre assessment grades (CAGs) now meet the conditions of their offer
Any applicant who was made an offer by the University will be admitted if their CAGs meet the conditions of their offer and if they still wish to come to Cambridge. This does not apply to offer-holders for mathematics because places are confirmed on the basis of additional Sixth Term Examination Papers (STEP).

Any student who successfully appeals the assessment process and therefore meets the conditions of their offer will be admitted.
Deferral to 2021 will be required for some offer holders
The number of places we can confirm in 2020 will depend upon a number of factors, including our ability to increase places in subjects, our teaching capacity and the amount of accommodation that colleges can provide. Given the capacity issues caused by this unprecedented situation, some offer holders who meet their offers after 17 August will have to defer for a year. We will do as much as we can to minimise this requirement by seeking volunteers for deferral from across the whole cohort, including those who have already had their places confirmed for 2020. Further information on this will be released over the coming days.
Students who have not previously had their place confirmed and who just missed their offer based on CAGs will not be admitted
Regrettably, given the unprecedented situation we cannot now admit any offer holders who have not met the conditions of their offer based on revised results.

If students have met the University's typical offer for their course but not the offer set by their chosen college, please contact that College for further advice.
If students sit examinations this autumn and gain the results required to meet the terms of their original offer they will be admitted in 2021

We understand that there will be an opportunity to take examinations this autumn, and that students may decide to sit those if their summer grades are lower than expected.  The University of Cambridge will confirm entry in October 2021 if the terms of the original offer are met as a result of taking those examinations. Where possible, students will be admitted to the College where their offer is currently held. Students should notify the College from which they are currently holding an offer by no later than 31 August if they intend to take the autumn examinations.
Timing
We expect to receive CAGs via UCAS. However we do not yet know the timescale for receiving these data and so we ask offer holders to continue to be patient. If in the meantime candidates or their schools wish to advise us informally regarding CAGs they should contact the College that made the offer so that we know to expect a revised result.

Although this is as much information as we can provide at this stage, please rest assured that we are committed to ensuring that everyone knows where they stand as soon as possible.
**
You can read an earlier statement by the vice-chancellor, Professor Stephen Toope, here:
https://www.cam.ac.uk/coronavirus/news/statement-on-2020-a-level-results-and-cambridge-university-admissions