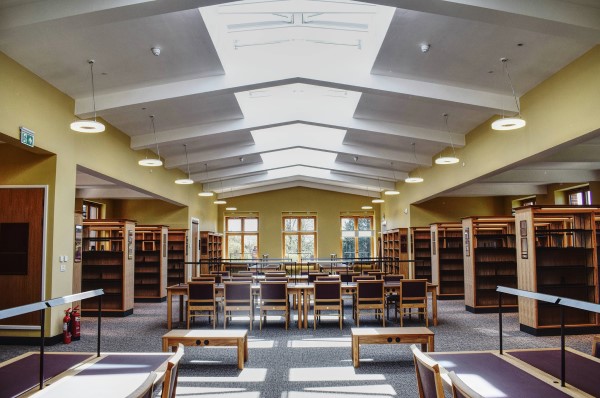 The college is delighted to report that the new library and auditorium building is open for Selwyn students from Friday, April 30th. In the first instance, the Bartlam library will be available as additional study space.
The building is a major declaration by the college in providing excellent facilities for students; and it has been funded – at a total figure of close to £13m – entirely by alumni and friends. We're enormously grateful for their gifts to future generations.
Here's the latest information on both the college libraries:
Study space: current library
If you are in Cambridge, you can continue to use the old college library for study space. We have been able to increase the number of spaces available, in line with our Covid-related risk assessments. You will need to book a space and sit in the location you have booked. You do not need to book to access the printer/copier/scanner or to borrow and return books and DVDs.
Study space: Bartlam Library
If you wish to use the new space, you must first book a brief familiarisation visit so we can let you know how to use the building safely. Future familiarisation visits will be advertised on the Bartlam Library (study space) guide, or you will be able to email the library to arrange one.
You can book a study space on the first or second floor of the new library, or book one of the two study rooms, using our booking calendar. You will also find more information on what to expect in the new space this term in our guide.
The Bartlam library will open fully in time for the start of Michaelmas Term. We will be moving the library collection during the long vacation, along with the printer/copier/scanner, remaining MCS PCs, and other resources. We will also be adding adjustable desk chairs and armchairs to the new library, together with extra facilities and seating in the library common room. Students are getting a sneak preview now, but there's more to come.