It was with great regret that we heard on Friday 17th July, that Owen Chadwick had passed away - peacefully, and surrounded by his family.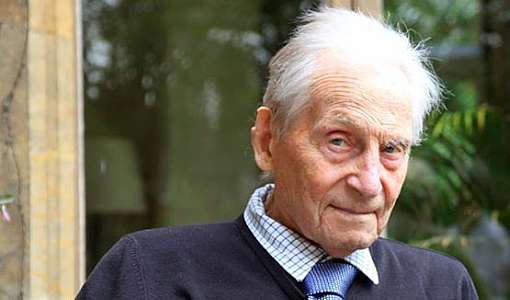 Owen Chadwick was a giant of Selwyn, of Cambridge – and of Britain and the wider world. He was our longest serving Master, and the most distinguished historian and theologian of his time. He lived a long and glorious life, born in 1916 and just recently celebrating his 99th birthday.

WOC, as he was affectionately known by his many friends, was born in Bromley in 1916 into a legal family as the third child of six. His elder brother John (later British Ambassador to Romania) won a top scholarship to Rugby but Owen was told that he would have to settle for a minor award at Tonbridge. Owen came up to St John's in Cambridge in 1935, first to read Classics and then, very successfully, History and Theology. Alongside his academic work he was heavily involved in Rugby, playing as hooker for the University for three years running and as Captain in his third year. He was also a member of the informal British Lions team which toured Argentina in the summer of 1936 where they won all ten of their matches, including a 23-0 victory over Argentina's national side.


After graduation and seeking ordination, he approached Westcott House only to be deflected to Cuddesdon College, Oxford. This was followed by a curacy in Huddersfield, which he much enjoyed, and then on to Wellington College as Chaplain where he thought he could better contribute to the war effort. The call to return to Cambridge came from Trinity Hall in 1947 to be Dean of Chapel. He married Ruth in 1949 having been informed by the then Bursar of Trinity Hall, who was not particularly fond of clergymen, that a College flat in King's Parade was about to become available for a married Fellow. He had met Ruth when conducting a friend's Wedding in Clifton College with Ruth, the Headmaster's daughter, in attendance as a bridesmaid.


He was elected to the Mastership of Selwyn in 1956 at a time when the University Vice-Chancellorship was filled, two years at a time, by a Head of House. Owen was Vice-Chancellor during 1969-71, and it was a challenging time: including the disturbance at the Garden House Hotel in 1970. More positively, Owen remembered with particular pleasure his time as Chairman of the Trustees of the new University College (now Wolfson).


He was elected to the Regius Professorship of Modern History in 1968. One of his younger brothers, Henry, also held a Regius Chair in Cambridge, and therefore for two brothers – Owen and Henry – both to have held Regius Chairs and both to become Heads of Colleges (Selwyn and Peterhouse) shows that the Chadwicks put the bar for academic distinction very high. Owen's major book was his two-volume History of the Victorian Church but he also wrote in a lighter vein. For example, his Victorian Miniature had its origin in his discovery that the Squire and Parson of Ketteringham near Norwich, who did not much like each other, had independently kept diaries during the first 30 years of the reign of Queen Victoria. It is a fascinating read.


Although much consulted about episcopal appointments over the years, Owen made his career in Cambridge not wishing to increase the distance between himself and the Cambridge University Library. He was admitted to the Order of Merit in 1983 and was the most senior (non-royal) member. In retirement he lived quietly in Newnham, regularly visited by his family, and returning to Selwyn frequently for Chapel and major college events.


Selwyn's Professor John Morrill has written an obituary of Owen Chadwick for The Guardian, which you can read at http://www.theguardian.com/books/2015/jul/19/the-rev-owen-chadwick


Other obituaries have appeared in the New York Times http://www.nytimes.com/2015/07/24/world/europe/owen-chadwick-british-scholar-of-christianity-dies-at-99.html, the Daily Telegraph http://www.telegraph.co.uk/news/obituaries/11750610/The-Reverend-Professor-Owen-Chadwick-OM-obituary.html and The Times (subscription required) http://www.thetimes.co.uk/tto/opinion/obituaries/article4502925.ece.