The college congratulates its Boat Club crews on a highly successful few days on the river for the 2023 May Bumps. Here's a report from the Selwyn captain:  
**
The college capped off an outstanding May Bumps with another clean sweep on the final day. Crews bumped up a total of 9 times over the week, making Selwyn the most successful club on the river and the winners of the 2023 Pegasus Cup.
On the closing Saturday, M2 set a fast pace off the start to catch Christ's II on First Post Reach and win their Oars. They've been so dominant that their total distance raced over the week amounts to less than the length of the bumps course, with all their bumps taking place at or before First Post Corner.
[+4 ⬆️⬆️⬆️⬆️]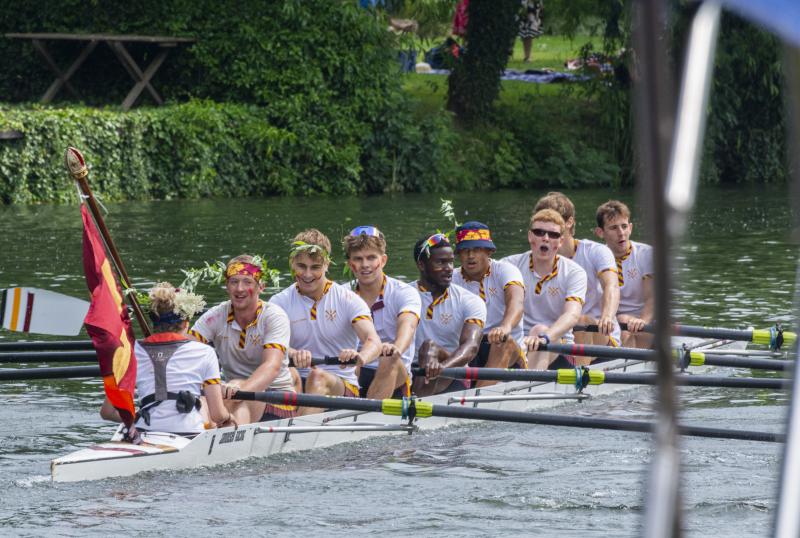 Up next, W1 set out to catch Lucy Cavendish I, who on Wednesday had been within a length of being chased down by W1 for the double overbump. W1 started strongly and gained quickly on Lucy Cavendish, bumping at First Post Corner. [ +3 ➡️⬆️⬆️⬆️]
Racing in the final division of the week, M1 put in their best row of the event to bump First and Third I at First Post Corner, executing their race plan to perfection and capping off one of Selwyn's most successful Bumps campaigns in recent memory. [ +2 ➡️⬆️➡️⬆️]
Well done to everyone involved in racing, and our thanks go to our fantastic captains and coaching staff who have put in so much work this year. Particular appreciation for the Friends of the Selwyn Boat Club. Without their support successes such as these would not be possible.