Sir David Harrison was 90 years old on May 3rd.
David has had a remarkable career at Selwyn, going back 70 years (more than half the time of the college's existence) to when he started as an undergraduate. He became a Fellow in 1957, and took on a range of college responsibilities – from admissions tutor to senior tutor – before becoming Master in the 1990s. He was also vice-chancellor of Keele and Exeter Universities; and he is a distinguished chemical engineer. He is pictured here with a cake and champagne, delivered to his home in lieu of the birthday lunch which had to be postponed because of the health emergency.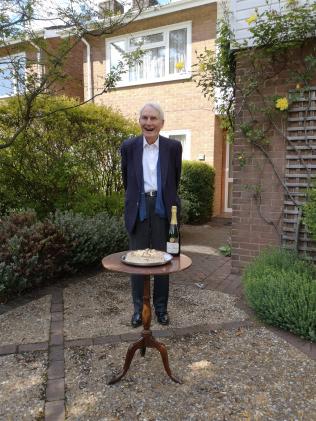 David is still at a multitude of college events, and over the years he has won the respect and affection of generations of Fellows, students and staff. The college council therefore decided to honour his birthday by renaming the New SCR as the Harrison Room, so that his contribution to the college will be marked enduringly.