Body
Please consider supporting Selwyn's wonderful gardens as a Friend of Selwyn Gardens
Selwyn's glorious gardens are a hidden Cambridge gem. Developed over 140 years they include traditional sweeping lawns, mixed with mature trees, rich and varied borders and beds and shrubs which reflect the college's connections around the world.
The gardens are a wonderful resource, used every day for work and reflection by members of the Selwyn community and visitors, guests and friends. They are also the backdrop to some of the most special memories, including May Balls and Snowballs, post-exam garden parties and weddings.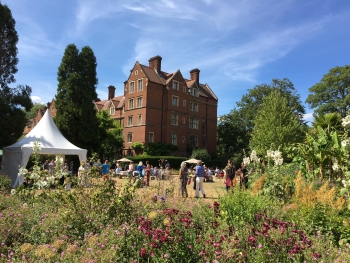 Friends of Selwyn Gardens is a new scheme, open to all, which will provide additional help for the Head Gardener, enabling a range of new initiatives, from tree planting to major projects, enriching the college's grounds for future generations to enjoy.
All donations from the Friends will be used exclusively towards maintaining and preserving Selwyn's gardens as a place for everyone to enjoy for decades to come.
Friends of Selwyn Gardens membership levels 
Friends – (£75 per year/£6.25 per month)
Young Alumni, those who graduated within the last five years: £2 per month for the first five years
•    Annual newsletter and other college publications
•    Invitations for you and a guest to the annual programme of alumni and friends' events
Patrons – (£1,500 per year/£125 a month)
All of the benefits of the Friends, plus:
•    Tree or shrub planting opportunities
•    Selwyn Patron membership, enjoying related benefits*
Master's Circle – (£10,000/£834 a month for at least one year)
All of the benefits of a Patron, plus:
•    Annual tour of the Selwyn Gardens with the Head Gardener
•    Master's Circle membership, enjoying related benefits*
*For more information on Selwyn Patron or Master's Circle, please visit www.selwynalumni.com/recognisingyoursupport
To join the Friends of Selwyn Gardens today, click here or download our membership form here. Please consider joining by Direct Debit which is efficient for the college to manage and enables you to stay in control of your membership. Thank you very much for your help.
For more information about any of these projects please contact Mr Sam Davis, Major Gifts and Legacies Manager sjdd2@cam.ac.uk and +44 (0)1223 767845.
For more information about Selwyn College Gardens, please click the link to to go the webpage: Selwyn Gardens