Selwyn supports students in many ways, and one of these is financially – which is particularly important in these tough economic times. When they experience unforeseen financial problems, our students benefit from the various sources of support that are available centrally to students from all colleges. Generally the way these can be accessed is through your tutor, and sometimes the Senior Tutor, making a case to the relevant university body. The range of grants and funds is extensive.
There is further financial backing available within the college. For example, one of the recent creations at Selwyn is the Elgar Fund, named after Dr Dennis Elgar who left a major benefaction for student support. This now offers: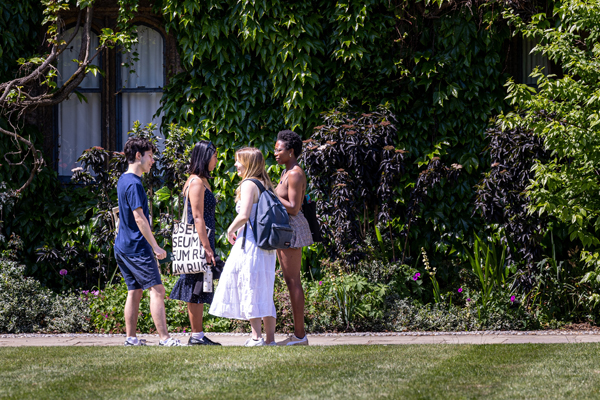 An Elgar matriculation book and equipment grant of £100 will be made to all undergraduates in their first term of residence. If you're on a full Cambridge Bursary, there will be an additional £150 grant in your second term; with £100 paid to partial bursary holders.
The Elgar vacation residence grant offers the opportunity to stay in Cambridge during the Easter vacation to students for whom financial considerations may be a barrier to doing so. With tutorial support it may also be available for the Christmas vacation.
The Elgar finalists' grants: Eligible undergraduates (those receiving bursary support) in their final year of study, along with third year medical and veterinary students, will receive a grant intended to help with such things as application fees, interview travel and other expenses that arise as they consider their next steps and in a year when their student loan diminishes. A grant of £300 will be paid as a credit on their college bill in the Easter term to all eligible third year students in residence and to fourth year students who have returned from a year abroad or intermission.
Elgar Formal Hall Grants: In order to help ensure that students from less well-off backgrounds do not feel excluded from full participation in college life, this grant is intended to ensure that all students feel that Formal Hall is affordable. Students in receipt of a CBS grant will receive six free tickets per year.
You can read more about our financial support here:
https://www.sel.cam.ac.uk/ughandbook/finance
This section of our website includes information about other opportunities for students, including grants for travel, sport and music. We also have funds that are dedicated to supporting students in particular subjects in academic-related activities or ambitious vacation projects:
https://www.sel.cam.ac.uk/ughandbook/finance/grants-academic-projects-vacation-placements