Body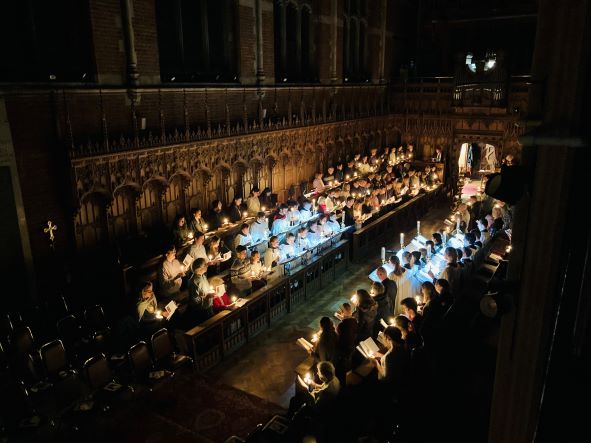 We are delighted to welcome you to services in Selwyn Chapel, which are open to all.
Sunday Services
10.30am College Communion
A service of the Eucharist with readings, hymns, prayers, a short address and a sharing in communion. This service is sung by a cantor or a small choir drawn from singers within college. After this service everyone who has taken part shares brunch together in Hall.
6pm Choral Evensong with a guest speaker
A beautiful traditional service of music, prayers and readings sung by our full choir with an address from a guest preacher. This is followed by drinks and chapel supper. See the chapel card for a list of preachers.
Weekday services
Morning prayer is said at 8.45am, Monday to Friday throughout term.
Choral Evensong is conducted at 6.30pm on Tuesdays and Thursdays throughout term (the days of Formal Hall) and provides a space of reflection after the working day. A microsermon by a student, choir member or fellow is preached on Tuesdays.
Special Services for Lent 2023
Sunday 29th January, 6pm - Choral Eucharist for the Feast of the Presentation (Candlemas) with blessing of candles.
Wednesday 1st February, 9.30pm - Compline by candlelight, sung by the choir.
Wednesday 22nd February, 8pm - Choral Eucharist for Ash Wednesday with Imposition of Ashes
All Choral Services are livestreamed here. 
Past services and orders of service can be found in the archive below. 
Please click on a link below for the YouTube link for your selected service, or for the service sheet
Lent Term 2023 Chapel Services
Thursday 16 March - Choral Evensong
Tuesday 14 March - Choral Evensong
Sunday 12 March - Music and Readings for Lent
Thursday 9 March - Choral Evensong
Tuesday 7 March - Choral Evensong
Sunday 5 March - Choral Evensong
Thursday 2 March - Choral Evensong
Tuesday 28 February - Choral Evensong
Sunday 26 February - Choral Evensong
Thursday 23 February - Choral Evensong
Wednesday 22 February - Choral Eucharist with Imposition of Ashes 
Tuesday 21 February - Choral Evensong
Sunday 19 February - Choral Evensong
Thursday 16 February - Choral Evensong
Tuesday 14 February - Choral Evensong
Sunday 12 February - Choral Evensong
Thursday 9 February - Choral Evensong
Tuesday 7 February - Choral Evensong
Sunday 5 February - Choral Evensong
Thursday 2 February - Choral Evensong
Wednesday 1 February - Choral Compline
Tuesday 31 February - Choral Evensong
Sunday 29 January - Choral Eucharist for the Feast of the Presentation (Candlemas) with blessing of candles 
Thursday 26 January - Choral Evensong 
Tuesday 24 January - Choral Evensong
Sunday 22 January - Epiphany Carol Service
Michaelmas Term 2022 Chapel Services
Sunday 4 December - Carol Service
Thursday 1 December - Carol Service
Tuesday 29 November - Choral Evensong
Sunday 27 November - A Procession for Advent Sunday
Thursday 24 November - Choral Evensong
Wednesday 23 November - Choral Compline
Tuesday 22 November - Choral Evensong
Sunday 20 November - Choral Evensong with visiting choir from Southwark Cathedral
Thursday 17 November - Choral Evensong
Tuesday 15 November - Choral Evensong
Sunday 13 November - Words and Music for Remembrance
Thursday 10 November - Choral Evensong
Tuesday 8 November - Choral Evensong
Sunday 6 November - Choral Evensong
Thursday 3 November - Choral Evensong
Tuesday 1 November - Choral Vigil for All Souls 
Sunday 30 October - Choral Eucharist for All Saints Sunday 
Thursday 27 October - Choral Evensong
Tuesday 25 October - Choral Evensong
Sunday 23 October - Choral Evensong
Thursday 20 October - Choral Evensong  
Tuesday 18 October - Choral Evensong for the Feast of St Luke
Sunday 16 October - Choral Evensong
Thursday 13 October - Choral Evensong
Wednesday 12 October - Choral Compline 
Tuesday 11 October - Choral Evensong
Sunday 9 October - Choral Evensong 
Thursday 6 October - Choral Evensong 
Sunday 2 October - Freshers' Welcome Service - Preacher Revd Dr Arabella Milbank Robinson, Dean and Chaplain (Youtube link unavailable for this service)
Saturday 24 September - Commemoration of Benefactors - Preacher: Rt Revd Stephen Conway, Bishop of Ely
Friday 16 September - Prayers following the announcement of the death of Queen Elizabeth II
Easter Term 2022 Chapel Services
Sunday 19 June - Final Service of the Academical Year- Preacher: Hugh Shilson-Thomas
Thursday 16 June - Choral Eucharist, 6.30pm - Corpus Christi
Chapel notices      Order of Service for Choral Evensong
Wednesday 15 June - Choral Compline, 9.30pm
Tuesday 14 June - Choral Evensong, 6.30pm - Microsermon: Peter McCartney
Chapel notices      Order of Service for Choral Evensong
Sunday 12 June - Choral Evensong, 6.00pm  - Preacher: Brandon Fletcher-James (Trinity Sunday)
Chapel notices      Order of Service for Choral Evensong
Thursday 9 June - Choral Evensong 6.30pm
Chapel notices      Order of Service for Choral Evensong
Tuesday 31 May - Choral Evensong 6.30pm  - Microsermon: Zhenglin Liu (apologies - no sound on livestream due to cable failure)
Chapel notices      Order of Service for Choral Evensong
Sunday 29 May - Choral Evensong, 6.00pm  - Preacher: Christie Gilfeather (Pentecost)
Chapel notices      Order of Service for Choral Evensong
Thursday 2 June - Choral Evensong 6.30pm
Chapel notices      Order of Service for Choral Evensong
Tuesday 31 May - Choral Evensong 6.30pm  - Microsermon: Francesca Firth
Chapel notices      Order of Service for Choral Evensong
Sunday 29 May - Choral Evensong, 6.00pm  - Preacher: Dr Marcus Tomalin
Chapel notices      Order of Service for Choral Evensong
Thursday 26 May - Choral Eucharist for Ascension Day, 6.30pm
Chapel notices      Order of Service
Tuesday 24 May - Choral Evensong 6.30pm  - Microsermon: Benji de Almeida Newton
Chapel notices      Order of Service for Choral Evensong
Sunday 22 May - Choral Evensong, 6.00pm  - Preacher: Canon Sr Gemma Simmonds
Chapel notices      Order of Service for Choral Evensong
Sunday 15 May - Choral Evensong, 6.00pm  - Preacher: Clare Owen 
Chapel notices      Order of Service for Choral Evensong
Thursday May - Choral Evensong 6.30pm
Chapel notices      Order of Service for Choral Evensong
Sunday 8 May - Choral Evensong, 6.00pm  - Preacher - Rev'd Canon Dr Jeremy Morris (Friends of the Choir Service)
Chapel notices      Order of Service for Choral Evensong
Thursday 5 May - Choral Evensong, 6.30pm
Chapel notices      Order of Service for Choral Evensong
Wednesday 4 May - Choral Compline 9.30pm
Sunday 1 May - Choral Evensong, 6.30pm (Preacher - Peter Leith)
Chapel notices      Order of Service for Choral Evensong
Thursday 28 April 2022 - Choral Evensong 6:30pm sung in memory of Lorcan Canavan (SE 2017)
Chapel notices      Order of Service for Choral Evensong
Lent Term 2022 Chapel Services
Thursday 17 March 2022 - Choral Evensong, 6.30pm
Tuesday 15 March 2022 - Choral Evensong, 6.30pm (Microsermon: Peter McCartney)
Sunday 13th March - Service of Music and Readings for Lent, 6.00pm
Saturday 12 March 2022 - Service of Thanksgiving for the life of Bishop Bob Hardy, 2.30pm
Thursday 10 March 2022 - Choral Evensong, 6.30pm
Tuesday 8 March 2022 - Choral Evensong, 6.30pm (Microsermon: Clare Owen)
Sunday 6 March - Choral Evensong, 6.00pm (Preacher - Hannah Moore)
Thursday 3 March 2022 - Choral Evensong, 6.30pm (Microsermon: Ros Cooper)
Wednesday 2 March 2022 - ASH WEDNESDAY Choral Communion (Preacher - Peter Leith)
Tuesday 1 March 2022 - Choral Evensong, 6.30pm 
Sunday 27 February - Choral Evensong, 6.00pm (Preacher - Revd Joshua Brocklesby)
Thursday 24 February 2022 - Choral Evensong, 6.30pm
Tuesday 22 February 2022 - Choral Evensong, 6.30pm (Microsermon: Rachel Evans)
Sunday 20 February - Choral Evensong, 6.00pm (Preacher - Revd Michael Johns-Perring)
Thursday 17 February 2022 - Choral Evensong, 6.30pm
Tuesday 15 February 2022 - Choral Evensong, 6.30pm (Microsermon: Dr Marcus Tomalin)
Sunday 13 February - Choral Evensong, 6.00pm (Preacher - Revd Dr Stephen Edmonds)
Thursday 10 February 2022 - Choral Evensong, 6.30pm
Tuesday 8 February 2022 - Choral Evensong, 6.30pm (Microsermon: Brandon Fletcher-James)
Sunday 6 February - Choral Evensong, 6.00pm (Preacher - Canon Hugh Shilson-Thomas)
Wednesday 2 February 2022 - Choral Compline, 9.30pm
Tuesday 1 February 2022 - Choral Evensong, 6.30pm (Microsermon: Hugh Shilson-Thomas)
Sunday 30 January 2020 - Choral Eucharist for Candlemas, 6.00pm (Preacher: Christie Gilfeather)
Thursday 27 January 2022 - Choral Evensong, 6.30pm
Tuesday 25 January 2022 - Choral Evensong, 6.30pm (Microsermon: Medomfo Owusu)
Sunday 23 January 2022 - Epiphany Carol Service, 6.00pm
Thursday 20 January 2022 - Choral Evensong, 6.30pm
Michaelmas Term 2021 Chapel Services
Sunday 5 December 2021 - Christmas Carol Service, 6.00pm
Tuesday 30 November 2021 - Choral Evensong, 6.30pm
Sunday 28 November 2021 - ADVENT PROCESSION
Wednesday 24th November 2021 - Choral Compline
Tuesday 23 November 2021 - Choral Evensong, 6.30pm
Sunday 21 November - Choral Evensong, 6.00pm (Preacher - Canon Hugh Shilson-Thomas)
Thursday 18 November 2021 - Choral Evensong, 6.30pm
Tuesday 16 November 2021 - Choral Evensong, 6.30pm
Sunday 14 November - Remembrance Sunday (Service of Music and Readings, 6.00pm)
Thursday 11 November 2021 - Choral Evensong, 6.30pm
Tuesday 9 November 2021 - Choral Evensong, 6.30pm
Sunday 7 November - Choral Evensong, 6.00pm (Preacher - Canon Jonathan Collis, SE 1987)
Thursday 28 October 2021 - Choral Evensong, 6.30pm
Tuesday 2 November - Vigil for All Souls' Day, 9.00pm (Durufle Requiem)
Sunday 31 October - Choral Eucharist, 6.00pm
Thursday 28 October 2021 - Choral Evensong, 6.30pm
Tuesday 26 October 2021 - Choral Evensong, 6.30pm
Sunday 24 October 2021 - Choral Evensong, 6.00pm (Preacher - Rev'd Lizzie Campbell)
Thursday 21 October 2021 - Choral Evensong, 6.30pm
Wednesday 20 October 2021 - Choral Compline, 9.30pm
Tuesday 19 October 2021 - Choral Evensong, 6.30pm
Sunday 17 October 2021 - Choral Evensong, 6.00pm (Preacher: Hugh Shilson-Thomas)
Thursday 14 October 2021 -  Choral Evensong, 6.30pm
Tuesday 12 October 2021 - Choral Evensong, 6.30pm
Sunday 10 October 2021 - Choral Evensong, 6.00pm (Preacher: Peter Leith)
Thursday 7 October 2021 - Choral Evensong, 6.30pm
Sunday 3 October 2021 - Choral Evensong (Freshers' Welcome Service) at 5.30pm
Easter Term 2021 Chapel Services 
Sunday 20 June - Choral Evensong (3.30pm) 
Wednesday 16 June - Choral Compline (9.30pm)
Sunday 13 June - Choral Evensong (6.00pm) 
Sunday 6 June - Choral Evensong (6.00pm) 
Thursday 3 June - Choral Eucharist for Corpus Christi (6.30pm)
Tuesday 1 June - Choral Evensong (6.30pm)
Sunday 30 May - Choral Evensong (6.30pm) Trinity Sunday
Thursday 27 May - Choral Evensong (6.30pm)
Tuesday 25 May - Choral Evensong (6.30pm)
Sunday 23 May - Choral Eucharist for Pentecost (6.00pm)
Thursday 20 May - Choral Evensong (6.30pm)
Tuesday 18 May - Choral Evensong (6.30pm)
Sunday 16 May - Choral Evensong (6.30pm)
Thursday 13 May - Choral Eucharist for Ascension Day (6.30pm)
Tuesday 11 May - Choral Evensong (6.30pm)
Sunday 9 May - Choral Evensong (6.30pm)
Thursday 6 May - Choral Evensong (6.30pm)
Tuesday 4 May - Choral Evensong (6.30pm)
Sunday 2 May - Choral Evensong (6.00pm - Fifth Sunday of Easter. Preacher: Peter Leith)
Lent Term 2021 Chapel Services 
Sunday 4 April - EASTER SUNDAY Choral Eucharist (10.30am - Preacher: Hugh Shilson-Thomas)
Wednesday 17 March - Choral Compline (9.00pm)
Sunday 14th March - Choral Evensong (6.00pm - Fourth Sunday of Lent. Preacher: Dr Marcus Tomalin)
Wednesday 10 March - Choral Compline (9.00pm)
Sunday 7 March - Choral Evensong (6.00pm - Third Sunday of Lent. Preacher: Revd Professor John Morrill)
Wednesday 3 March  - Choral Compline (9.00pm)
Sunday 28 February  - Choral Evensong (Second Sunday of Lent)
Wednesday 24 February - Choral Compline (9.00pm)
Sunday 21 February - Choral Evensong (6.00pm) - First Sunday of Lent
Wednesday 17 February - Choral Compline (9.00pm)  - ASH WEDNESDAY
Sunday 14 February - Choral Evensong (6.00pm)
Wednesday 10 February - Choral Compline (9.00pm)
Sunday 7 February - Choral Evensong  (6.00pm) - Second Sunday before Lent
Wednesday 3 February - Choral Compline (9.00pm)
Sunday 31 January - Choral Evensong (6.00pm) - Presentation of Christ in the Temple/Candlemas
Michaelmas Term 2020 Chapel Services
Saturday 19 December - Alumni Carol Service
Thursday 3 December - College Christmas Carol Service  
Tuesday 1 December (final Choral Evensong of term)
Sunday 29 November - Advent Sunday Procession, 6.00pm
Thursday 26 November (Choral Evensong)
Wednesday 25 November (Choral Compline)
Tuesday 24 November (Choral Evensong)
Sunday 22 November (Choral Evensong, Feast of Christ the King)
Thursday 19 November (Choral Evensong)
Tuesday 17 November (Choral Evensong)
Sunday 15 November (Choral Evensong, 2 before Advent)
Thursday 12 November (Choral Evensong)
Tuesday 10 November (Choral Evensong)
Sunday 8 November (Choral Evensong for Remembrance Sunday)
Thursday 5th November (Choral Evensong - Men's Voices)
Wednesday 4th November (Choral Compline)
Sunday 1st November (Eve of All Souls' - Durufle's Requiem)
Sunday 25th October Service (Last after Trinity) - Preacher: Bishop Graham Kings
Sunday 18th October Service (Dedication Festival, 125th Anniversary)
Wednesday 14th October - Choral Compline
Easter Term 2020 Chapel Services